[beginners] Add shortcuts to your desktop.
04-03-2012, 05:08 PM
nl2stk
Senior Member


Posts: 525
Joined: Aug 2011
Reputation: 0
[beginners] Add shortcuts to your desktop.
If you using the 'Rox' to set a wallpaper (
http://delicate-linux.net/forum/showthread.php?tid=77
) than it's possible to create shortcuts to your desktop.
Just open Rox-filer an go to /usr/share/applications, if everything goes well you'll see a lot of .desktop files. just drag the one you want to your desktop and copy it (not move!).
If it's finished, you can rename it. It's very unlikely that you like such names as gnumeric.desktop on your desktop :] You can do it with right-clicking the icon ->edit item. If you don't like the icon (or it's missing), right click on it and go to -> set icon.
If you open Rox-filer again and you go to the .icons directory you can find a suitable icon and drag it into the 'set icon' box.
An example screenshot with shortcuts is this.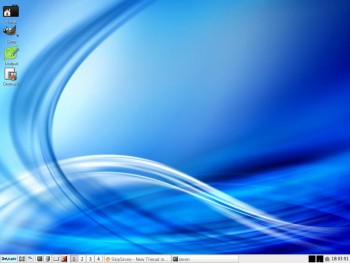 ---
Hardware in use: Compaq PIII- 1GHZ, Geforce 4000, 256mb, 80gb HD
Dutch Delicate Linux information: http://www.delicatelinux.nl.ae

User(s) browsing this thread: 1 Guest(s)