12-29-2011, 09:52 AM
(This post was last modified: 12-29-2011 02:57 PM by nl2stk.)
nl2stk
Senior Member


Posts: 525
Joined: Aug 2011
Reputation: 0
RE: [help] su things
I've made a few entries, and there is still room for improvement.
Now there is a simple 'repolist', but it would be nicer when there is a list with extra info (like pacman -Si gives).
But hey I 've got to start somewhere :]
This is now how it is...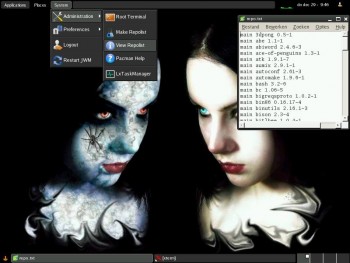 EDIT: I've made an extra entry called 'PKGBUILD Help".
This opens a textfile and shows the most common options how to change an Arch PKGBUILD to an i386 compatible PKGBUILD.
So most of the times I can copy and paste some things from that document, it reduces typemismatches :]
---
Hardware in use: Compaq PIII- 1GHZ, Geforce 4000, 256mb, 80gb HD
Dutch Delicate Linux information: http://www.delicatelinux.nl.ae

User(s) browsing this thread: 1 Guest(s)